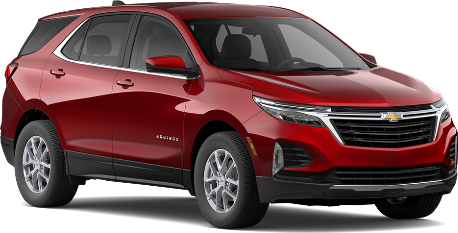 ?
At Jud Kuhn Chevrolet, we are proud to offer a comprehensive selection of brand-new 2023 SUVs, trucks, and coupes. Our lineup is second to none in the area, and we invite you to visit us on Highway 9 East in Little River for an exclusive look at all the latest upgrades and additions to Chevy's model line. Whether you are in the market for a powerful pickup truck or a spacious, family-friendly SUV, we have you covered at Jud Kuhn Chevrolet. The 2023 Chevy lineup includes new models, trims, powertrains, and standard safety features.
New Upgrades for 2023
There are several brand-new entries to Chevy's lineup for 2023. The all-new Chevrolet Corvette Z06 is a high-powered sports coupe, delivering up to 670 horsepower through a standard 5.5-liter V8 engine for unrivaled power and precise performance near North Myrtle Beach.
The Chevrolet Blazer is refreshed and re-tooled for 2023, offering a revised front end and a new set of available powertrains. At the same time, the Chevy Bolt EUV and Bolt EV are significantly less expensive than previous model years, giving you affordable electric options in South Carolina.
The new 2023 Chevy Colorado is fully redesigned for the new model year, bringing in a revamped interior cabin, a new powertrain, and more. Its turbocharged 2.7-liter 4-cylinder engine produces up to 310 horsepower for strong performance on the road or on the job near Myrtle Beach.
New 2023 Chevrolet SUVs for Sale in Little River, SC
Our lineup has something for all lifestyles and driving preferences, from large family-friendly SUVs to compact crossover-style vehicles. Our new Chevy SUV lineup includes the following near Conway:
Chevrolet Blazer
Chevrolet Equinox
Chevrolet Suburban
Chevrolet Tahoe
Chevrolet Trailblazer
Chevrolet Trax
New Chevy Trucks Available Near Conway and Myrtle Beach
From the iconic Chevy Silverado 1500 to our heavy-duty truck selection, our lineup has you covered no matter your needs at work or on the road. The Chevy Silverado 1500 is available with a higher-output Duramax diesel engine, delivering up to 305 horsepower and 495 lb-ft of torque. At the same time, our heavy-duty Chevrolet Silverado 2500HD models offer unrivaled towing abilities and off-road capability for class-leading performance in any scenario.
The new Chevrolet Silverado 1500 is available in the following trim levels:
Work Truck
Custom
LT
Trail Boss
RST
LTZ
High Country
Our new Chevrolet Silverado 2500HD models include the base Work Truck, along with the following trims:
LT
Custom
LTZ
High Country
Stop by today for an exclusive walkthrough of our new Chevy pickups!
Visit Us at Jud Kuhn Chevrolet Today!
Whether you visit us from Shallot, NC, or Murrells Inlet, we are just a short drive away at Jud Kuhn Chevrolet. Our team is excited to walk you through our new 2023 Chevrolet models, so stop by today for a closer look at everything we have to offer! If you have any questions, concerns, or feedback for our team at Jud Kuhn Chevrolet, do not hesitate to give us a call or contact us through our website for more details regarding our services and our 2023 lineup.